Long time users of Komplett already know that they switched warehouses and had a few account problems during the switchover. The whole thing seemed a little rushed from the experience on the website, but then management could easily have been pushing them. Things such as not being able to open multiple tabs by control clicking was when I first started getting worried.
Don't get me wrong now, I wouldn't be a massive Komplett purchaser, at least not on a person level. We did put a little bit of the company purchases through from time to time although it was about to expand out. However when I could no longer login in to the site and read about missing orders, I decided to pass on placing the order at the time, go somewhere else and then return when all the problems were fixed.
Today is the day when all that changed. The following email arrived in this morning marking the end to my use of Komplett.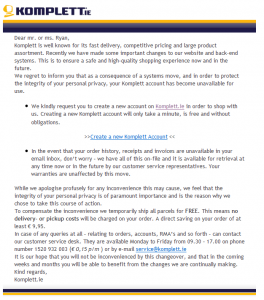 So what now? Komplett have always been a consistent company and decent to deal with. Well basically any company incapable of transferring account or even telling customers openly about the issues isn't a company I want to deal with. (I had to google it to find out what was going on – to komplett, a graphic at the top of the homepage isn't enough, especially a graphic that isn't the default graphic, correct place is a link on the login page)
In the end it has worked out better for me. We ended up with a large account with one of the supplier that the likes of Komplett use. Basically we are ending up saving another 2-5% of komplett prices, and we get things quite a bit faster, generally next day delivery.