To open the Swords league was a time trial, and a hill time trial at that. Perfect in all respects. The hill is short and steep with a kick up in the middle.
Then I found out that the finish was up top after a flatish section.
Luckily the first rec of the course on the night revealed that the top only has a very short flat section before beginning uphill, abit at a slight grade. Enough to keep me happy and result in my speed going up again on the uphill. I probably would trade some of my uphill speed for flat speed but that is just as it is. More training required.
Due to a combination of being a little late and being placed on the second sheet, I was off near the end which was both good and bad. It left enough time to get properly warmed up and enough time to relax before the start. The road however was slippy enough, and as the night went on it became more so with the tractors going up and down from a field.
I had decided to really make a go of the climb, at least get a respectable enough time. This resulted in removing bottles and the saddle bag, something I didn't do on the previous hill TT. Being perfectly honest, I really didn't expect much before I arrived and based on previous times was aiming for a sub 5 minutes. My rec had me believing I'd do a 4 minute something, possibly even a low 4.
At the lineup. Off comes the Gilet. Down goes the bottle. Move into position and the bike is held. Some joking about still being on a compact. I clip in my left foot. Shortly after my right foot. Rotate the pedals into position as the time clicks down. Control the breathing. Get ready.
5, 4, 3, 2, 1 …… Go!
Immediately there was a problem. A car had passed around and moved in from of me on the hill. For the first second or two things seemed ok. It looked like they were going to move fast enough to get out of the way and then they began slowing down. Disaster. I actually shouted at the car to go I got so frustrated at the corner since I'd slowed down and almost stopped pedalling. I do find it crazy just how much the mind plays tricks though as my memory of it and how I slowed down seems different to Garmin, but then Garmin does show are really noticeable drop.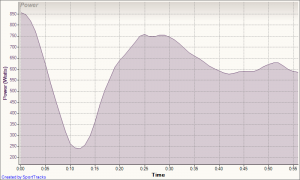 Once the car moved on I began up the hill. A slight adjustment to my climbing style was required due to the rear slipping somewhat, but either way I did feel alright. The usual leg burn but I managed to only drop off in one section so my fitness hasn't dropped off too much. However the belly still shows.
All in all, a good night out and next weeks race will be interesting to say the least.
The Stats:
Distance: 1.83km
Time: 0:04:11 (Official time 4:13)
Avg Speed: 26.2km/h
Calories: 116
Avg Power: 466.6watts
Normalised Power: 493watts