The event draws near…
The realisation of what is to come starts to dawn…
Day 1 – Dublin to Bourg d'Oisans (via Geneva)
Flights at 12, day begins at 7am – because it is a Sunday and buses decide to be in frequent. I guess it is better than last trip where there were no buses. It was made slightly better as Burger King has a Double Cheese Burger, small fries, small drink for the grand low price of €3.50. At 10am, it becomes the breakfast of kings.
Things were continuing along their path of general goodness when we landed in Geneva. I was of two minds about the car however we ended up with a 5 door Toyota Auris. This meant no unpacking of the bikes to fit them into the car – seat folded down and away we went. AC too.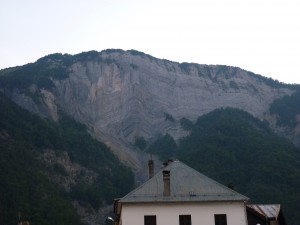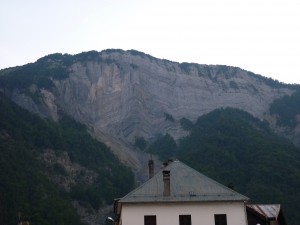 5 minutes from the car park, things did start down hill when the GPS decided it didn't know the road we were on. Even the main motor way was a different area. Quick food stop sorted it by reselecting the maps. I guess its a case of check PROPERLY before you go.
Food is where things started to fall down. We built up the bikes and went off to find a restaurant. Pizza and chips ordered – pizza arrived. After we finished the pizza, we reminded them about the chips only to be told, sorry forgot to put your chips order in, and the kitchen is closed. Can do desert. I guess they were saved by the Cart D'or ice cream. Very very nice.
Day 2 – Col du Glandon / Col De La Croix De Fer
Today started hungry and tired. Yesterdays mishap with food didn't sit well. And it seems it gets ridiculously bright here ridiculously early. So all in all, not a good night.
Breakfast consisted of some corn flakes, scrambled eggs and orange juice. Not really the cycling feast we were preped for back in March at Vamos Cycling. (Those guys rock – should want a cycling holiday, look at them in Cadier Spain. Food was amazing as was the cycling.)
The cycle rolled out around 10 and continued down a long straight road until we start up the Col du Glandon. Being me, I really hadn't spent all that much time studying the profile so the climb mostly worked out easier than expected. It goes up, down, up, down again, back up to the top. With breaks to re-group, it was handy enough.
The heart rate was one difference. First climb, I started by holding my pace to see how I was feeling, wait for the legs to start to burn a little. This stopped quickly about 200m along the road at the first corner. Looking at the Garmin, HR of 175, with no burn in the legs. Stopping at the first corner, we waited for around 30 seconds to re-group after maybe 1km of climbing. Strangely I hadn't recovered, at all. It took another minute or two before I was back to normal. Immediately my pacing strategy changed to one based on HR, not power or perceived exertion.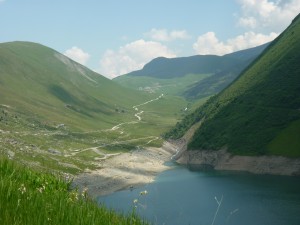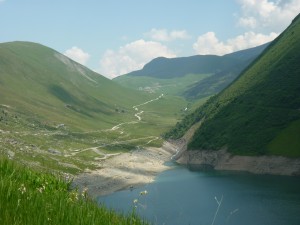 While the climb itself was a near sustained 10%, it wasn't physically hard per-say, it was the heat that caused the problems. Lots of constant sweating meaning lots of constant drinking, and lots of nuun.
I generally held my own which was nice, actually held my own all day. A Scottish guy who is staying the B&B did beat me up every hill but other than that only two other cyclists passed us. They were fairly milling it along too. Both in the drops working hard. Yes it doesn't mean much but it is nice to be doing the passing. And yes it'll be different on Saturday.
The descents were mostly ok however I need to look at my brakes. Rear isn't working as well as it used to meaning I nearly cooked it on the second corner of the first descent. Loose rocks on the road too. Anyway it is better to relax during the descents and recover.
Overall a nice easy enough ride. Need to watch the water tomorrow. Think it was 3 and half bottles today however the mountain fountains are very cold and very nice.
Food – A nightmare begins
So it turns out no one here eats until 7pm. Yes we had a bit of after ride pasta but it was stressed that it isn't lunch, and it wasn't. Walking around the town, restaurants were open, just not serving food. Like honest. A trip to the supermarket resulted in some cans of coke, crisps and jellies. They helped but not enough.
Google came to the rescue in a way by finding a bigger supermarket. This gave us bread, ham and cheese for rolls. By now it was 7pm so off for a burger and chips, mixed tapas to start. However tie in that I normally eat regularly and this was no where close to regular, I didn't finish the meal, something slightly worrying. Even now, a few hours later, my stomach still hurts a bit and my head hasn't recovered. I'm also tired from the lack of sleep last night. Overall, the worse I've ever felt after a days cycling – last years Wicklow 200 included.
Tomorrow we have sorted some cereal and more bread to food after the ride. Hopefully sleep will work better tonight. And the restaurant we were at again tonight has a restricted food menu during the day. Only hours they don't serve is 5:30 to 6:30 which I think we can work around.
Time will tell.
The morning shall be interesting.
Day 3 – Col du Telegraphe / Col du Galibier
Luckily today began in a slightly good way. Last night gave way to more sleeping, a bit with the waking 2-3 times for toilet breaks, but that is one of the side effects of drinking so much water. And honestly, I'd not change it. Waking up in the morning without sore legs, or stiff legs, or tired legs really is something.
The morning started downhill from there. My pre-existing stomach cramps / pains decided to make an appearance meaning I almost delayed us leaving in the van for the trip to the Galiber. Our drive took us along the route yesterday and up the Glandon. Strangely it seemed a lot harder in the van than it did from memory yesterday. The descent from the Glandon, well that is another story. While it looked a bit nuts while viewing the first bit, when we started driving it, the insanity hit home. Steep sweeping roads with no walls or barriers.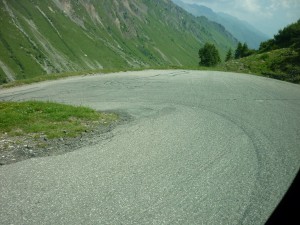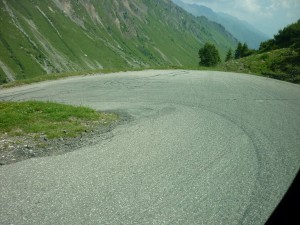 The road from the descent to the Telegraphe, reported by many to be the hardest part of the event, is, well rolling. Ups and downs along the motorway. A group will be useful but pacing more so. Staying too hard along here and you will not recover on the Telegraphe.
Conversation in the van also alluded to how the day might work out position wise. The two new guys who joined us yesterday seemed fit – was is in the UK Navy. However just how fit became apparent when the conversation turned to Ironman events. It wasn't a case of oh different people have done an Ironman, but just how many they had done. 6 to be exact, including Kona, and posting a time of 9:03 in one, enough to shock one of the other guys who had done 2 Ironman events.
Our day cycling day began in St Michel De Maurienne. Short 2km before we were on the Col de Telegraphe. I remembered some of it from the few ascents I did on the Tacx Trainer that I have. While it was months ago, we did remember there would be trees. Unfortunately, we did the climb between 12 and 1 and well, trees on the side of the road don't help give shade when the sun is directly above you.
About 4km from the top, I had one of those moments. The times when your life looks like it may end. Luckily I was not in a coherent enough state to fully realise things but basically a truck decided to overtake me on one of the bends. He got the front of the truck up beside me when a jeep coming the other way came into view. This forced him to brake and start quickly moving to the side of the road. But this was a hill, so I wasn't going fast, and I was at the side of the road. So yes, he started moving right towards me. Not something I ever want to repeat.
Climbing the Telegraphe got easier near the top too. Be this from it levelling out somewhat or the temperature dropping, I'm not sure but it went faster and felt easier.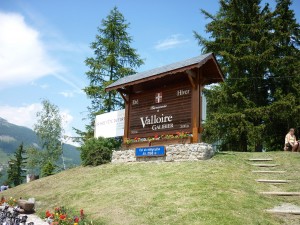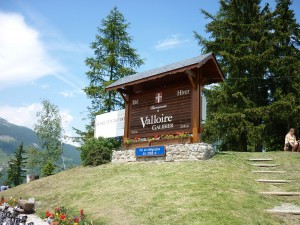 The descent to Valloire went well. Nice and relaxed, decent pace. Exactly how you want it. We did get slightly lost at the round a bout taking a few spins around before some more cyclists arrived to direct us along the right path.
Starting from 1400m, it really wasn't all that hot on the Galiber. But this suited me. It was a few km up the road before I needed to start zipping up the top but I never felt cold. Keeping the pace steady is actually easy enough on hills like this as the grade stays constant.
My stomach did make a grumble about 6-8km in, not sure exactly where. But I took this to eat a bar. Out it came and then the grade dropped down to 4-5% for the duration of my eating before going back up to 9%. Honestly, couldn't have planned it better. I did have to pop a gel further up the hill too, about 40-50 minutes later.
Climbing long climbs like this is strange however. I remember rolling by 10km to go and being like, yeh, getting there. Less than an hour to go. Then I remember rolling by 5km and thinking hey, only a few minutes ago I was going by 10km, but I also remember 9km which is strange.
2km to go was one of the first times I looked up to see where the road went. It took a few seconds to register but the tiny signs at the top became visible. Everyone else in the group actually made a similar comment too. You think you are nearing the top and then you see another 5 or 6 switchbacks. To top it off, the top 1km was closed off to cars due to snow / snow damage to the roads. Local council guys were up their sweeping some stuff from the road surface which was slippy stuff. Fully seated and the rear wheel lost grip at one occasion. I wasn't the only one either.
That last 1km was the hardest of the lot too. I had stopped for a bit at the fence wondering what was happening before picking up my Gilet and arm warmers and going on up. Didn't help the legs.
Altitude is a funny thing too. My HR was down. My power was down. My speed was down. My breathing was UP. And quite a bit. During the descent to Lautaret, I could feel the air getting heavier and my breathing getting better. Strange feeling.
Sitting at the hotel in Lautaret, dark clouds could be seen in the distance. Phil (our guide) said there was heavy rain in Bourg d'Oisans. I decided to push on and try miss as much of the rain as possible.
I knew something was up when it started to hurt my head through the
holes in the helmet. I really knew something was wrong when my spokes
started to make a pong noise every now and then. Stopping at road works
and looking down I saw the problem. Pea sized hail stones.
Now the profile from here to Bourg is mostly decent on just about every profile I've seen. The reality is that it isn't a descent all the way. It levels off in places or sits at 1 and 2% which is up hill. Multiple sections were at 5 and 6% too. All told, it was bloody hard. To make matters worse, at one point it started raining. But heavy rain. I knew something was up when it started to hurt my head through the holes in the helmet. I really knew something was wrong when my spokes started to make a pong noise every now and then. Stopping at road works and looking down I saw the problem. Pea sized hail stones.
Pushing on because well what else was there. Luckily I guess it stopped and I started to dry out. Just as I was almost fully dry, it started to rain again. Once I was nice and wet, it again stopped. Again leaving enough time for me to dry out again. Then it decided to really open up. The last 15 minutes to Bourg were wet. Really wet. Similar to the Swords Sportive a few weeks ago wet. Even now, a few hours later, my shoes are still soaked. I ended being able to squeeze my gloves and watch water drip out.
Lets hope the weather on Saturday behaves itself…
Day 4 – Alpe d'Huez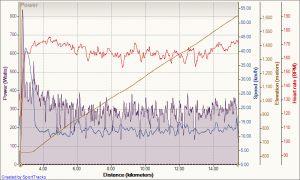 Today was to be a run up the Alpe d'Huez. We all were of two minds as if we should go all out, or should we relax and enjoy the climb. As the graph above shows, I decided to hammer it.
First think to comment on, something the profile graphs miss, the start is meant to be 10% and then drop to 8% after about 1.5km. Well it doesn't. It kicks up to 13% from what I saw on the Garmin. So me hammering it along the flats and up the hill a little really backfired for the first while. Took a good 10 minutes to feel settled on the hill.
Overall it isn't too bad of a climb. Yet I say that while ranking today as the hardest day of the week so far. In the hour climb I took two gels and nearly finished both of my 800ml bottles. 1 had nuun and the other a High5 sachet which also had caffeine. While normally my High5 is great, the caffeine did not sit well causing my heart rate to go up everytime I drank some. Not something you want when you HR is sitting high already.
My time was 1 hour, 1 minute, 10 seconds. And I did try harder near the end to try push when I was nearing the hour mark. On the one hand I am slightly annoyed about the time, I did want to break the hour mark, on the other, it was a good time. (For reference, time started at the zebra crossing after the round a bout at the bottom, then stopped at the Arrive Sign beside the Tourist office and the top)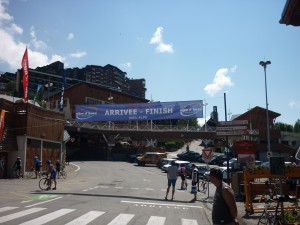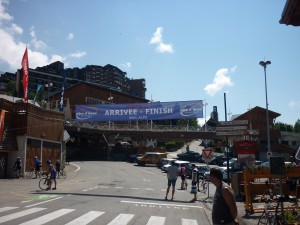 Edit: My time makes me the fastest Irishman who stayed with Tour d'Oisans.
Day 5 – Rest and Registration Day
Today looked like it was started good. I woke at 5am ish, which is the longest sleep I'd gotten so far. Thought I'd be able to get back asleep too until my stomach started at me. Ended up having to go downstairs and eat a bowl of cereal before it would pass. Really a case of not eating enough, and eating enough is strangely hard here in Bourg d'Oisans, a town for cyclists.
Due to the stomach parts, I opted not to go with the other guys out on the cycle they were doing. Had hoped I'd get out later in the day but it was around 12 by the time my stomach had cleared itself. The time was spent washing clothes and giving the bike a good look over, including replacing the rear brake pads. Descending the Alpe yesterday, I could smell the pads during the middle section until I started over taking the cars.
Registration took place at the top of the Alpe, and instead of driving up direct, we decided to head up via the Col de Sarenne and down to Alpe d'Huez. I won't say much about this climb as it was done in a car except that it was almost as hard in a car as the Alpe was on a bike. It goes on and the road surface near the top isn't the best. Then from the top to the Alpe, it has small sections of pavé in a deep V like section, used to channel the melt water from the mountain. Not something I'd like to cross on a bike.
As for the registration, it was surprisingly smooth. Not too big of a queue and what there was moved very quick. Once inside, we took a look at some of the merchandise available (I got a Marmotte Jersey and T-Shirt), then signed in by giving the form and medical cert in exchange for a bag. On the way out you scan the timing chip to ensure it is working and then you are done.
Day 6 – Recovery Day
A short spin, less than 15km with a small gentle uphill near the end, then back the same way. 30km Total. Or so they said.
I did my usual sit in to warm up for a few minutes then started some shortish, fast speed buildups. Then onto two larger sprints. One of them allowed me to set yet another Personal Best for power output, this time in the 30 second grouping (according to PowerAgent for my PowerTap). Below is one of the sprints. Small downhill allowing the speed to go up before a slight uphill. I built up the power and give the final push near the end of the cycle before relaxing out.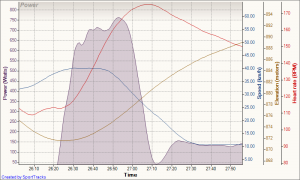 There was also two or three high cadence drills before we turned a corner and started uphill on switchbacks. For those of you who have never climbed in big mountains, switchbacks mean steep. Immediately we were climbing at 10% leaving me slightly suffering due to the above output. Not fun. Lucky the climb only lasted about 5 minutes before we reached out stop point.
Stats for the Prep Week
224.54km
10:04:10 of cycling time
22.3km/h average speed
9559 (PowerTap) Calories
5142.6m of climbing
Roll on to the day. Starting. Finishing. Celebrating.